Bugsy Malone Auditions
Sunday 16th January Lancaster Hall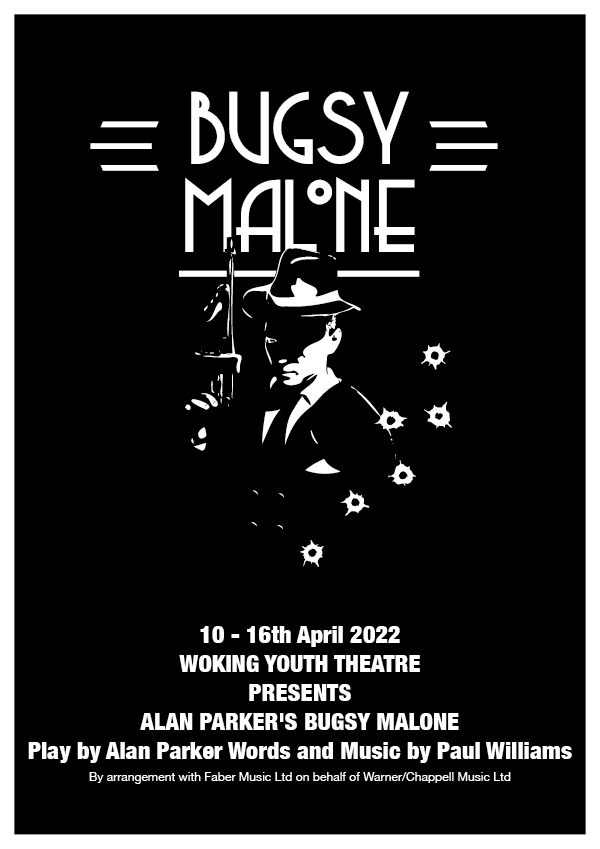 Woking Youth Theatre is proud to announce our 2022 musical is Bugsy Malone at The Rhoda McGaw Theatre, Woking. Show dates 13th - 16th April 2022. Get in / tech / dress 10th - 12th April 2022. You must be available for all these dates.
Let's be honest, the last couple of years have been rubbish. What we all need is a bit of fun to cheer us up, and Bugsy Malone is the perfect show for that.
Bugsy is set in 1929 New York where organised crime gangs run the city, with the police effectively powerless to stop them.
Crime boss Fat Sam's empire is under threat from Dandy Dan, who is slowly taking over thanks to the superior fire power of the Splurge gun. Our story follows Bugsy Malone, who Fat Sam employs to help repel Dandy Dan's attacks.
It's a fun musical with some dark undertones which this production will highlight.
Auditions are at Lancaster Hall, 28 Send Rd, Send, Woking GU23 7ET 6pm - 9pm Sunday 16th January.
6pm - acting auditions for principals only
7pm - singing auditions for principals only
8pm - dance / movement auditions
If you do not wish to audition for a principal or singing role please arrive for 7:45pm to join the dance / movement auditions.
Performers should be prepared to attend up to three rehearsals a week depending on their role, especially later in the schedule. Rehearsals will be Sundays for certain, and most likely Tuesdays and Fridays depending on venue availability.
For the early stages of rehearsals, Sundays will be for chorus numbers (which will also include some principals). Principals will need to attend week-day evenings to rehearse scenes and principal numbers. A rehearsal schedule will be published shortly.
You must become a member of Woking Youth Theatre to accept a role in our productions. There will also be a show fee. Subscriptions and show fees are payable by Direct Debit. A bursary is available for low-income families, children in care or with disabilities.
Principal Roles
Please note:
to audition for a principal role you must register using the form at the bottom of this page whether you are already a member or not
if you are NOT a WYT member you must complete the form irrespective of whether you are auditioning for a principal role
due to WYT age restrictions and licencing restrictions you must be aged 15-17 inclusive to audition if you are not already a WYT member
principal auditionees will be expected to use a New York accent.
Bugsy Malone
Street-smart Bugsy makes a living doing 'this and that', trying to stay on the right side of the law. He's charismatic and cool under pressure, and soon wins the favours of Fat Sam and Blousey. He's our hero and frequently narrates the story.
Sings:
Could be played as male by either gender.
Blousey Brown
Blousey dreams of making it big in Hollywood one day, but for the moment has come to New York to find work as a singer. She's cautious, suspicious and expects the worst from the people she encounters, probably because she's been let down so much in the past.
Sings:
Ordinary Fool
I'm Feeling Fine
Fat Sam
Fat Sam has built an empire from nothing and has been top dog in his quarter of New York for some time. His uber confident exterior is beginning to show cracks as Dandy Dan takes more and more of his territory. He puts on an air of hospitality but be under no illusions, Fat Sam has no compunction about having people killed if they cross him. He's built his empire with brawn rather than brain.
Does not sing as principal
Could be played as male by either gender.
Tallulah
Tallulah is Fat Sam's 'girl' and a performer in his night club. It's clear she's had a chequered past and is smart, confident, dry, and rules the dance troupe. She can wise-crack as well as anyone and takes no flack, especially from Sam.
Sings:
Dandy Dan
Fat Sam's nemesis, Dandy Dan is immaculately dressed, smart, cool and ruthless. He believes Sam's patch belongs to him and is confidently going about taking it. He has the upper hand with the Splurge gun, outgunning Sam's gang at every turn. He is well educated, intelligent and conniving.
Does not sing as principal
Could be played as male by either gender
Leroy
Just a humble, working-class guy with no particular aspirations, Leroy is catapulted into Bugsy's life after coming to his aid during a mugging. He's uneducated but not necessarily unintelligent and is eager to earn a buck or two. He's placid, easy-going and likeable.
Does not sing as principal
Could be played as male by either gender
Fizzy
Fizzy works as a janitor at Fat Sam's but dreams of being a dancer and so ideally this role requires a dancer, but it's not essential. He's persistent and much-loved by the dance girls.
Sings:
Dancer preferred
Could be played as male by either gender
Knuckles
Fat Sam's right hand man. He's totally devoted to his boss. He's not very bright but as Fat Sam's main henchman he's probably 'taken out' a good few people. You wouldn't want to mess with him.
Does not sing as principal, sings Down and Out with Fat Sam's Gang
Could be played as male by either gender
Captain Smolsky
Police officer inadequately equipped to deal with the massive crime wave he's been tasked with clearing up. He's managed to ascend to the rank of Captain so is smarter than the average cop, but that's not a very high bar. Stressed and exhausted, he's over-worked and under-manned.
Does not sing as principal
Could be played as male by either gender
O'Dreary
Captain Smolsky's right hand man. He's uneducated and not very bright. If he hadn't chosen to be a cop, he'd probably be a hoodlum.
Does not sing as principal
Could be played as male by either gender
Fat Sam's Gang
Sings:
Movement / basic dance required
Could be played as male by either gender
Talullah's Girls
Loretta, Dotty and Tillie are all night club performers. They're sassy modern women and form part of the dance troupe for Fat Sam's night club.
Sings:
Dancers required
Cagey Joe
Friend of Bugsy and boxing trainer, Cagey Joe has been around the block and knows boxing inside out. He can spot a champ in the ring in seconds.
Sings:
Featured Roles
There are lots of opportunities for ensemble members to play a featured role so if you don't get the role you auditioned for don't be disappointed - there are plenty of opportunities to shine!
Registration
There are limited numbers for non-member auditions so don't delay!
Please note if you arrive intending to audition for a principal role or are not a WYT member without first completing this registration we cannot guarantee you will be seen. You do not need to register if you would like to be in the ensemble and are already a WYT member.